Auto Accessories
Auto Parts&Tools
Manufacturer
One Stop Service
Quality Price
and Service
Certificated
ISO9001:2000
Quote

Name:

Mr. Peter Hoo
Tel:

0086-571-85839981
0086-571-85839980
Email:
whatsapp:

0086 15868122828
skype:
Address:

Floor 8th,No.14,Fengsheng Jiuxi Bld. No.336 Chihua Str.310015,Hangzhou, China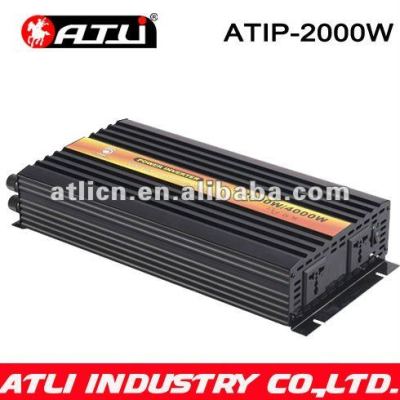 Categories
manage1
Brand
ATLI
Model
ATIP-1500W
Output Power
1500W
Output Type
Single
Size
225*135*57mm
Weight
2.45kg
Input Voltage
DC12V/24V/48Vand others are avai...
Output Voltage
100,110,220,230,240V AC are sta
Type
DC/AC Inverters
Output Frequency
50Hz/60Hz
Output Current
by load
Unit Price

US $ 20-150

/

piece

Update Time
December 5,2022
Product Features:
1.Low voltage input model adopt original imported IR MOS tube.The current is 5.5 times of rated current.
2.It low voltage input connection adopt high frequency low resistivity electrolytic capacitor. However ordinary capacitor will explode if the temperature become very high.
3.Every transformer has independent fuse protection.If there is a MOS tube break down,then the fuse will break fast.So that will not effect other MOS tube to break. 
4.All the protection signal adopt monolithic processing.Circuit is simple and stable.
5.Input and output are isolated to ensure the operation stability 
6.Output circuit adopt convertible circuit.The SPWM signal produced by Single Chip Microcomputer drive the A3120 optical coupler.Then the optical coupler isolated drive the output through IGBT tube.Adopt negative pressure to cut off IGBT to eliminate Miller effect,so the output is more steady.  
7.The whole design adopt patch technology.The circuit is simple and steady.
8.Optional remote ON/OFF control switch;
9.Smart protection function with LED and alarm show.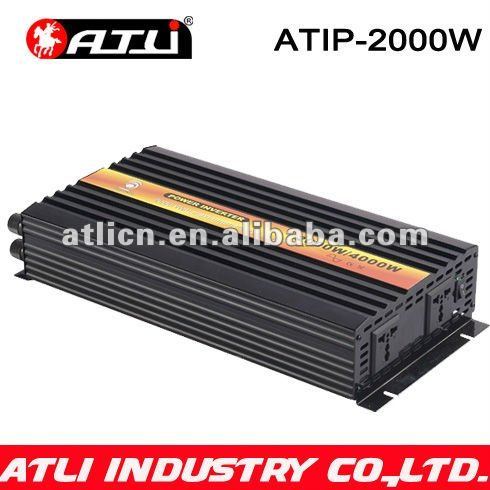 Parameter
Model 
 I-P-PPI-800W
 I-P-PPI-800W+R           
Remote control
NO
YES
Rated output capacity
600W
Peak power
1200W
Input                                           
DC 12V /DC 24V / DC 48V 
DC 12V 
Output 
Voltage
AC100V~120V or 200V~240V
 
Frequency
50Hz or 60Hz
 
Waveform
Pure Sine Wave
 
Regulation
Vrms <±5%
 
Efficiency
>85%
 
Total Harmonic Distortion
THD <3%
 
USB Output
DC 5V±5% 500mA
Protection Voltage/Current
Low Battery Alarm
DC 12V/10.5V ; DC 24V/21V ; DC 48V/42V
DC 12V/10.5V 
 
Low Battery Shut Down
DC 12V/10V ; DC 24V/20V ; DC 48V/40V
DC 12V/10V 
 
High Battery Protection
DC 12V/15V ; DC 24V/30V ;DC 48V/60V
DC 12V/15V 
 
No Load Current
12V / 400mA24V / 200mA48V / 100mA
12V / 400mA

Intelligent Design 

Heat Auto Control

Fan Start : 42°C±3 ,  Fan Stop : 38°C±3
 
High Temperature Shut Down : 63°C±3 ,  Restart Output : 55°C±3
Indicate and alarm signal
Indicator
Inverter: Green LED ; Fault: Red LED ; Over Temperature: Yellow LED
 
Low Battery Alarm
Alarm sounds:BiBi~BiBi~
 
Low/High Voltage alarm 
Alarm sounds:BiBi~
 
Over Temperature protection
Alarm sounds: Bi~; LED indicate: Yellow
 

Over Loaded protection;

short circuit protection

Alarm sounds: BiBiBi~~; LED indicate: Red
Physical State
Size W×D×H(mm)
(225+25)*157*75
 
Packing size W×D×H(mm)  
295*203*90
 
Net weight (kg)  
2.6
 
Gross weight (kg)
2.9
Please send your message to us
Sign Up to Get Latest Updates
Contact us
Floor 8th,No.14,Fengsheng Jiuxi Bld. No.336 Chihua Str.310015,Hangzhou, China
+86 158 6812 2828
Contact now